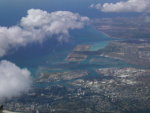 Honolulu International Airport from aboard ATA Boeing 757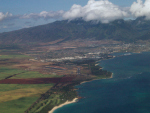 Kahului, Hawaii from aboard ATA Boeing 757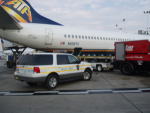 ATA Boeing 737, unloading cargo U.S. currency Midway Airport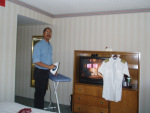 Captain Philip (webmaster) ironing his ATA Airlines uniform at KDFW hotel.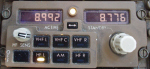 Listening for Emergency Action Messages MILCOM on 8992 and 8776 kHz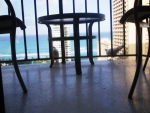 Pigeons on my balcony Prince Kuhio Hotel Honolulu, Hawaii
Here in Gallery 2, I have included some images from flying in the continental USA and out to Hawaii, with a couple of photos for the aeronautical and milcom radio listeners. Who recognizes the frequencies on the HF radios?
I'll give the answer: The Air Force uses 8.992 and 8.776 for relaying Emergency Action Messages and sometimes other voice traffic. The frequency 14.178 is popular among amateur radio operators developing Enhanced Single Sideband stations. The HF transcievers on the Boeing 757s and 737s don't have a banpass wide enough to receive all of the voice spectrum these hams transmit, but the smooth amplitude processing, minimal phase distortion and low intermod are easy to appreciate!
My other favorite photo is the 737, at Chicago Midway Airport, being unloaded under the scrutiny of armed couriers. I went outside for a preflight inspection, and noticed the ramp agents unloading box after box of U.S. currency. We literally had a truckload of cash on board and didn't know it!
© 2005 - 2023 AB9IL.net, All Rights Reserved.
About Philip Collier / AB9IL, Commentaries and Op-Eds, Contact, Privacy Policy and Affiliate Disclosure, XML Sitemap.
This website is reader-supported. As an Amazon affiliate, I earn from qualifying purchases.