Software Defined Radio WiFi Antennas Air and Space Radio Linux or Windows Digital Audio Liberation Technology Political Commentary AB9IL Video Gallery Aviation Photo Gallery
More ATA Airlines
Disclosure: AB9IL.net is a participant in the Amazon Services LLC Associates Program and others, such that this site earns advertising fees by linking to commercial offers. If you make a qualifying purchase after clicking a link on this website, the associate affiliated with this site may earn a comission at no cost to you.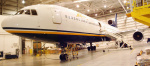 ATA Airlines L-1011 Aircraft N164AT Indianapolis Maintenance Hangar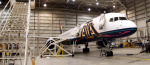 ATA Airline 757 Aircraft N514AT Indianapolis Maintenance Hangar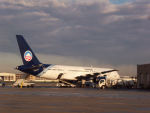 Barack Obama Campaign Boeing 757 at Midway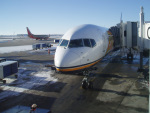 Southwest Airlines is the Borg ATA Airlines 757 Indiannapolis Airport
Aviation photo gallery 3, takes a look inside the ATA Airlines Indianapolis Maintenace hangar. Aircraft N194AT, the Lockheed L-1011, had recently received the ATA "swatch" paint scheme. On the other hand, the Boeing 757, N514AT, was undergoing maintenance and is seen in the "palm tree" paint scheme. Then, there's the McDonell Douglas DC-10 - at the time with minimal paint changes from the Northwest Airlines colors.
California is the location of most of the aerial photos. Cultivated farm land in the Modesto area is seen from aloft. Mountains near San Jose are seen to block the passage of moist air blowing in from the Pacific Ocean. Note that clouds and rain form where the air is orographic lift. Air dries and re-warms as it goes downhill on the leeward side of the ridges. Speaking of dry air, there is a smoky image from the more and more frequent brush fires in that state. Far from California, there is a night picture from overhead Baghdad, Iraq.
My favorite photos on this page are from Hilo, Hawaii's very tranquil "Japanese Park" and the Boeing 757 used by the Barack Obama presidential campaign. ATA Airlines flew numerous charters for the Democrats early in the campaign, then the flying was abruptly moved to North American Airlines. I have frequently seen the Barack Obama campaign jet here in Chicago. His aircraft is a nice change of scenery from the main user of Midway Airport, known to me as "The Borg." Change we can believe in!!
One former ATA pilot, Brian "Bee" Settles, wrote a riveting account of his life as a Vietnam era fighter pilot, highlighting sociopolitical conflicts still echoing today.Though ATA is gone, its people are out there in the world. In fact, they are all over the world - flying planes, teaching groundschools, writing books, and (in the Webmaster's case), building websites.