Cathay Pacific, generally as a company and specifically for crews traveling into the People's Republic of China, are under punitive scrutiny by the CAAC (regulators and enforcers of aviation policy in China). Under the false premise of air safety, the collection of personal employee data, inspection of phones and other electronics, and denial of entry of anyone supporting or participating in the Hong Kong pro-democracy protests are clearly an action based on politics. Fundamental human rights to privacy, expression, peaceful assembly, redress of grievances, and self-governance are being challenged. Will these be respected? Will these be infringed to the point of irrelevance? You must protect and exercise your freedoms or lose them. For more effective resistance to invasive electronics inspections at any national border, the following list of suggestions is offered to defend crew and passenger privacy:
If possible, do not bring personal electronic devices on your trip.
Keep your company-issued electronics clean - no controversial material.
If you must bring personal electronic devices, use "burners" containing no personal data (difficult in many countries).
Memorize your passwords and log out of your social media, email, and banking apps.
Delete the social media apps and controversial data from your devices before traveling.
Consider doing a factory reset of your devices before crossing the border.
Consider wiping the free space of your devices before crossing the border.
Have token social media accounts, with benign postings, for disclosure to inspectors demanding your account info.
Keep controversial media (images, text, video) off of your devices as much as possible.
Back up your contacts, personal data, controversial content to secure storage on servers outside of any problem countries.
Use encrypted storage and backups.
Be aware that authorities could install spyware on your devices. Consider doing a factory reset after leaving the country.
Be aware that some spyware is extremely difficult to detect and remove, and may be set up to evade factory resets.
Again, consider crossing the border inbound with "burner" devices and memorized social media and email passwords.
Photo credit:
Will Horton
Cathay Pacific memo to crews regarding support
or participation in pro-democracy demonstrations.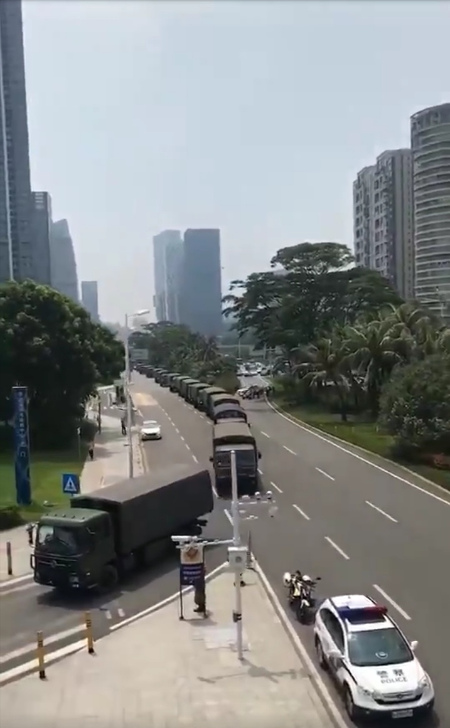 Photo credit:
Alexandre Krauss
Military build up Shenzhen, China, 25 km northwest of Hong Kong.
There will be a fight over the truth or lie of One Country Two Systems.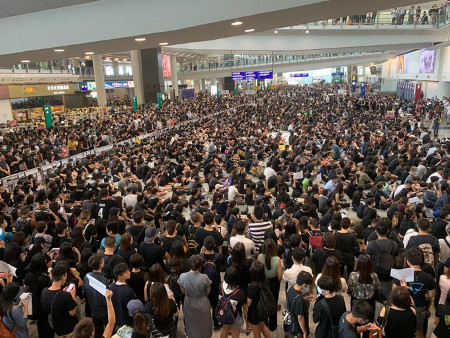 Photo credit:
Paul Kotta
Protesters at Hong Kong International Airport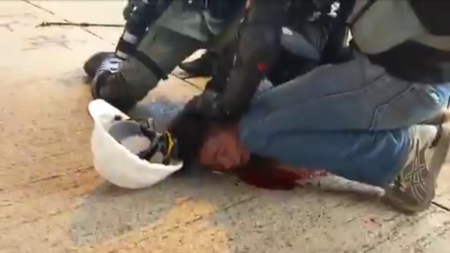 Photo credit:
Hong Kong Free Press
"Imagine a boot stamping on a human face - forever." -- George Orwell, "1984"
Hong Kong police, infiltrating and beating protesters 8/2019
© 2005 - 2023 AB9IL.net, All Rights Reserved.
About Philip Collier / AB9IL, Commentaries and Op-Eds, Contact, Privacy Policy and Affiliate Disclosure, XML Sitemap.
This website is reader-supported. As an Amazon affiliate, I earn from qualifying purchases.