Compared to a typical amateur or SWL station, the aeronautical radio equipment performs to high standards, but does not have much operational flexibility. For example, the oscillators are dead-on accurate and stable, but can only tune in whole 1 kHz steps. There is a tiny RF gain control, but AGC timing is pre-set. There are no filters to notch out carriers or remove the dreaded over-the-horizon radars in use by some countries.
Regarding frequencies, they are selected to provide single-hop propagation between the aircraft and the control center transmitter site. Frequencies are also divided by national registration, in order to reduce congestion. Thus, families A, B, C, etc. Between the west coast of the USA and Hawaii, traffic tends to operate on either 5574 or 8843 kHz, while the North Atlantic region has a plethora of frequencies in use. I suggest referring to a recent aeronautical HF radio frequency list for specific frequencies - and checking the twice daily track message from Gander or Shanwick.
No access to a receiver? You can still listen via receivers streaming audio on the web. There are many listed in this Google search. I heartily suggest a site like Globaltuners or LiveATC.net. Live ATC specializes in worldwide HF and VHF audio streaming, and have a huge variety of sources. Globaltuners has a number of excellent receivers streaming from different geographic locations.
| | |
| --- | --- |
| Typical Aero Radio Antenna Farm | Another Aero Radio Antenna Farm |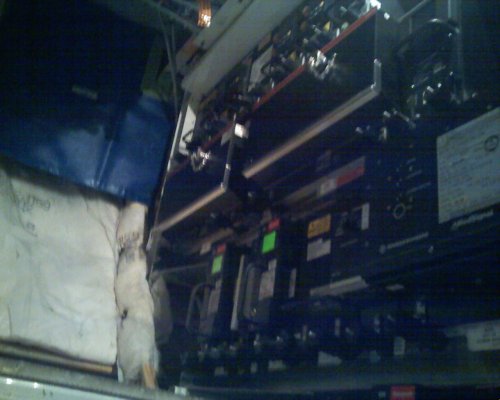 Boeing 757 Electronic Equipment Bay
In the center of the above photograph, looking much like all of the other rack-mounted boxes, is the HF transciever - a Rhode and Schwarz XK-516D. The radio is controlled from tuning panels (called RTPs) on the flight deck, and runs about 400W peak power.
Let\'s look a bit closer...It is securely mounted in a rack, with a supply of fresh air from the electronic equipment cooling system. The vertical stabilizer leading edge serves as the antenna, and a coupler unit automatically matches the impedance when the transmitter is keyed after changing frequencies.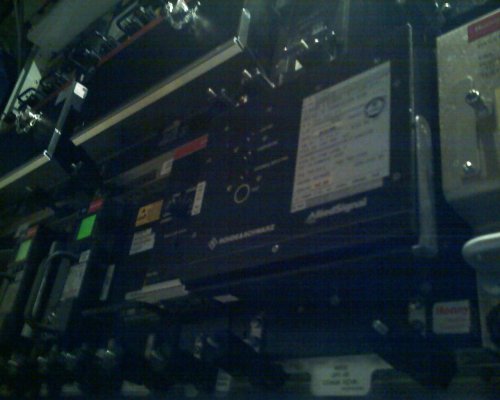 The XK516D up close.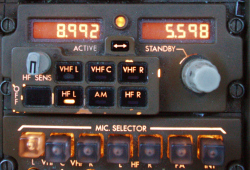 RTPs aren\'t glamorous, but they work well!
Most of the equipment is made by Rockwell-Collins or Honeywell- Rhode & Schwartz. Using ATA Airlines as an example, the transceivers were installed as indicated in the following table:
Typical Fleet HF Installations
Aircraft Make / Model
Equipment
Voice
Data
Peak Power
Boeing 737-800
Rohde & Schwartz-Honeywell XK516D
USB/aM
1.8kbps
400W
Boeing 757-200
Rohde & Schwartz-Honeywell XK516D
Collins HFS-700
USB/aM
USB/aM
1.8kbps
None
400W
Boeing 757-300
Rohde & Schwartz-Honeywell XK516D
USB/aM
1.8kbps
400W
L-1011-3853
Collins 618T
USB/aM
None
100W
DC-10-30
Collins 628T
USB/aM
None
400W
Good Luck, and keep on listening to aeronautical radio!
© 2005 - 2023 AB9IL.net, All Rights Reserved.
About Philip Collier / AB9IL, Commentaries and Op-Eds, Contact, Privacy Policy and Affiliate Disclosure, XML Sitemap.
This website is reader-supported. As an Amazon affiliate, I earn from qualifying purchases.